On a forum, fans of the show discuss her character:
Bachmann: Let's start with an extra that's in almost every episode: a young woman page. You know, the one that rang the bell and tied Kenneth's and Donnie's hands together in the page-off. She usually doesn't speak, but then she might have in Tracy Does Conan - was that her talking to the tour group as Kenneth tried to break through with the pharmacy order? In The "C" Word, when Pete is pairing up the pages for the golf outing, it can be inferred that her name is Shyla. So does anyone know who she really is?
arc: Aubrey Plaza, I think. Apparently a UCBer.
Bachmann: I just looked at my DVDs and realized that Aubrey Plaza is not the non-speaking page I'm thinking of. In this photo, the woman on the left is the extra that's in most of the episodes. (Her photo is from Jack-Tor.) Aubrey Plaza is on the right (from Tracy Does Conan).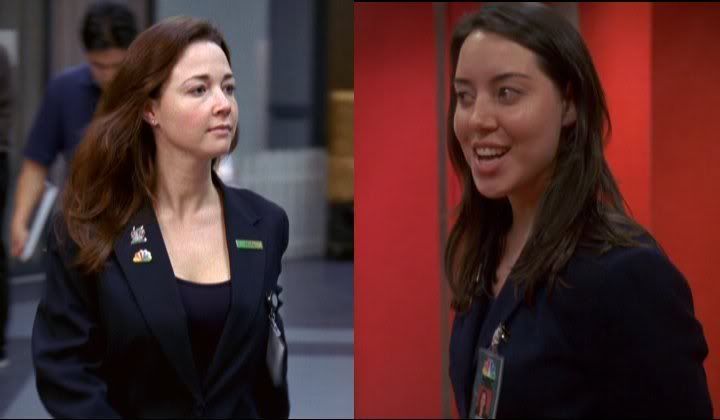 Bachmann: Speaking of Sue Galloway, she's in
this
episode of The Jeannie Tate Show on YouTube, along with Aubrey Plaza and Bill Hader from SNL.
From:
http://forums.televisionwithoutpity.com/index.php?showtopic=3163727
============================
Enjoy!