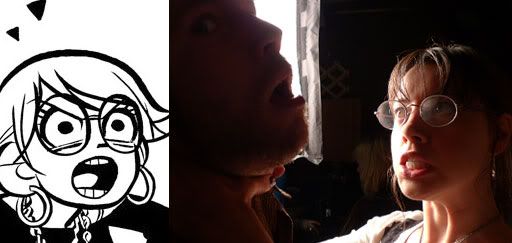 Of course, it's totally understandable if you set all plans aside in order to get in line for Thursday's "Scott Pilgrim" panel. It's guaranteed to be a popular one, so get there early (like, waaaaay early)!
6:00-7:00 Universal: Scott Pilgrim vs. the World— Genre-bending filmmaker Edgar Wright (Hot Fuzz), graphic novel author Bryan Lee O'Malley, and the cast of Universal Pictures' Scott Pilgrim vs. the World provide a sneak peek of summer 2010's epic of epic epicness.
Joining Wright will be our hero, Scott Pilgrim (Michael Cera of Superbad); Scott's two current girlfriends, Ramona Flowers (Mary Elizabeth Winstead of The Thing) and Knives Chau (Ellen Wong of Unnatural History); his band, SEX BOB-OMB: Kim Pine (Alison Pill of Milk) and Stephen Stills (Mark Webber of Broken Flowers); SEX BOB-OMB super-fan Young Neil (Johnny Simmons of Jennifer's Body); Scott's awesome roommate, Wallace Wells (Kieran Culkin of Igby Goes Down); and four of Ramona's seven evil exes: Matthew Patel (Satya Bhabha of Fair Game), Todd Ingram (Brandon Routh of Superman Returns), Gideon Graves (Jason Schwartzman of Funny People) and Roxy Richter (Mae Whitman of Parenthood); plus Scott's younger sister, Stacey Pilgrim (Anna Kendrick of Up in the Air), and the obnoxious Julie Powers (
Aubrey Plaza
of Parks and Recreation). Q&A to follow. In Hall H.
From:
http://splashpage.mtv.com/2010/07/08/san-diego-comic-con-2010-schedule-thursday-panels-revealed/
Enjoy!