Check out this review of Aubrey Plaza's Parks and Recreation character, April Ludgate...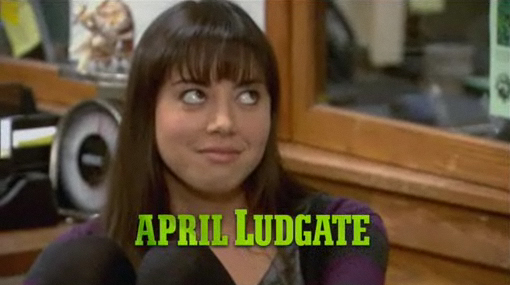 The alchemy that happened with the casting of Modern Family doesn't happen to every show. Or even most shows. Even a lot of the shows that I love right now have somebody in the cast who is, to some degree, a stooge. If you'll pardon the blasphemy, Chevy Chase is funny on Community, but he's not quite operating on the same frequency as everybody else. As played by Aubrey Plaza, April from Parks And Recreation has only just started to be anything other than a sullen teen. The Big Bang Theory's Johnny Galecki is often left behind like an anchor as Jim Parsons, Kaley Cuoco and (increasingly lately) Simon Helberg soar above him. And so on.
Read more:
http://www.npr.org/blogs/monkeysee/2010/07/09/128412440/the-real-reason-why-it-s-a-shame-that-ed-o-neill-wasn-t-nominated
=======================================
Is April just a stooge? I don't think so. I think the development between her and Andy have helped flesh her out as a major character.
Enjoy!